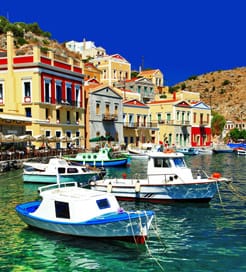 How to book ferries from Greece to Ionian Islands
There are numerous ferry crossings operating from Greece to Ionian Islands. Ferries currently connect 2 ports in Greece with 1 port in Ionian Islands.

There are a combined number of 77 ferry crossings each week across a selection of 6 Ferry Routes which are operated by 1 ferry company including Levante Ferries with the shortest crossing taking around 20 minutes (Sami to Ithaka (Pisaetos)).

This is a general summary of the services on offer between Greece and Ionian Islands, for live information select from our Fare Search.
Ferries from Greece to Ionian Islands
About Greece:
Greece is a country in Southern Europe with the 11th longest coastline in the world, sharing borders with Albania, Macedonia, Bulgaria and Turkey, and with islands in the Aegean, Ionian and Mediterranean Seas.

As one of the world's most popular tourist destinations, the country's fabulous beaches, whitewashed homes, historical sites and favourable climate attract huge numbers of visitors to its islands year round, though the majority arrive between April and October.

Whether you arrive on the mainland by sea or by air, the majority of islands can only be reached by ferry. With the number of services on offer, as you may expect, Greek ferries are of a high standard and most ferry companies feature a modern and luxurious fleet. All Greek islands are linked to the mainland, some directly, some indirectly and island-hopping is great experience, not to be missed.

Due to being a gateway to the islands, the Greek mainland is well connected to Italy across the Adriatic Sea too.
About Ionian Islands:
The Ionian Islands are a group of Greek Islands off the West coast of Greece in the Ionian Sea, also known as the Western Greek Islands. The Islands we traditionally called Heptanese which means "the Seven Islands" in Greek, symbolising the seven principal islands in the group.

Unlike the Cyclades, the Ionian Islands are known to be flourishing with greenery. With distinct tradition, cuisine and architecture on each of the islands, it is hard not to fall for the Ionian Islands.