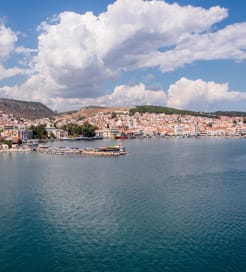 Ferry from Lesbos to Greece
There is no shortage of options to choose from when it comes to selecting a ferry from Lesbos to Greece. There are 2 ferry companies with a combined offering of 19 Ferry Routes connecting Mytilene to Chios & Sigri to Mesta (Chios), Mykonos & Piraeus.

The fastest route between Lesbos and Greece is Sigri to Mesta (Chios) with a crossing duration of around 2 hours 30 minutes. With so many routes on offer we make it simple by comparing all similar routes in one search so you can quickly find what you are looking for.
Ferries from Lesbos to Greece
About Lesbos:
Lesbos is the third largest Greek island located in the north-eastern Aegean Sea, boasting one of the sunniest climates in the country.

Its landscape is both diverse and beautiful, compacted with unspoilt beaches, fossilised forests and archaeological monuments. However, the most attractive feature of Lesbos is the absence of mass tourism, unlike some other Greek islands, making it one of the country's more peaceful holiday destinations.

Given the tranquillity, a trip to Lesbos gives visitors a chance to gain a true Greek experience by enjoying the authentic cuisine and relaxing on the long stretches of untouched coastline.

As the Aegean Sea is home to a large number of islands, there are plenty of ferry routes from Lesbos on offer. From the port town of Mytilini on the southeast coast, you can sail to numerous islands and the Greek mainland.
About Greece:
Greece is one of the world's most visited countries. With the Aegean Sea to the East of the mainland, the Ionian Sea to the West, the Mediterranean Sea to the South and a vast number of islands, Greece boasts some 16,000 kilometres of coastline.

Greece is a country rich with diversity, from its mountainous mainland to the stunning islands with their whitewashed houses and blue-domed churches. Many of the Greek beaches have been awarded the Blue Flag, while the country's rich history and legacy has left it with 18 UNESCO World Heritage Sites.

The Greek mainland is easily reached by ferry across the Adriatic Sea from Italy while domestically, due to the sheer number of islands, there are many ferry companies and a range of services on offer. The majority of the domestic ferries are modern, though the class of ferry differs based on the journey type. The longer routes are served by conventional passenger ferries, while the shorter inter island routes are served by high speed catamarans and hydrofoils.