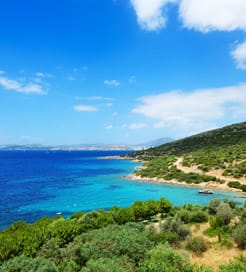 How to book ferries from Turkey to Aegean Islands
There are numerous ferry crossings operating from Turkey to Aegean Islands. Ferries currently connect 4 ports in Turkey with 2 ports in Aegean Islands.

There are a combined number of 63 ferry crossings each week across a selection of 5 Ferry Routes which are operated by 4 ferry companies including Ertürk Lines, Turyol, Meander Travel & Dentur Avrasya with the shortest crossing taking around 20 minutes (Cesme to Chios).

This is a general summary of the services on offer between Turkey and Aegean Islands, for live information select from our Fare Search.
Ferries from Turkey to Aegean Islands
About Turkey:
Turkey is a country bordering both Southeast Europe and Western Asia, with coastlines facing the Black Sea to the north, Mediterranean to the south and the Aegean to the west.

Given its location between the two continents, Turkey has long been admired for its diverse cultural heritage, helping it become one of the most visited countries in the world. Examples of the country's exciting history are commonplace, most notably in the majestic mosques of Istanbul and the captivating ruins of Ephesus.

Its natural scenery varies enormously, too, from sandy beaches on the west coast to massive mountains in the east, offering a wide range of outdoor activities if you want to escape the bustling bazaars in the cities.

Turkey has a number of ports along its coast and, due to the amount of islands in the Aegean and Mediterranean Seas, it offers numerous ferry crossings to a wide range of international destinations, as well as domestic routes from Istanbul across the Sea of Marmara.
About Aegean Islands:
The Aegean Islands are a group of islands in the Aegean Sea, most of which belong to Greece with the remainder belonging to Turkey.

Located between the south and east side of the Greek mainland and to the west of Turkey, the Aegean Islands consist of seven groups, namely the north eastern Aegean Islands, Sporades, Euboea, Argosaronic Islands, Cyclades, Dodecanese and Crete.

Islands in the Aegean Sea feature crystal blue waters, hot springs, fortress villages, rich history, delicious seafood and some of the most beautiful beaches in Greece. The Aegean Islands will no doubt offer those who visit the region a memorable and authentic experience.

Like most island groups, travelling by ferry is the most popular and in many cases the only way to get in and to travel around and the region is served by numerous ferry companies connecting the vast number of ports.