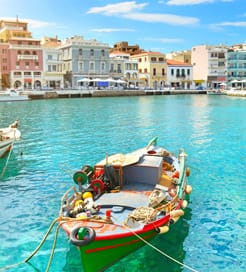 How to book ferries from Crete to Cyclades Islands
There is no shortage of options to choose from when it comes to selecting a ferry from Crete to Cyclades Islands. There are 3 ferry companies with a combined offering of 11 Ferry Routes connecting Heraklion to Thira (Santorini), Sitia to Milos, Thira (Santorini) & Anafi, Heraklion to Thira (Santorini), Milos, Mykonos, Paros, Naxos, Tinos, Syros & Anafi, Sitia to Milos, Thira (Santorini) & Anafi & Heraklion to Thira (Santorini), Milos, Mykonos, Paros, Naxos, Tinos, Syros & Anafi.

The fastest route between Crete and Cyclades Islands is Heraklion to Thira (Santorini) with a crossing duration of around 1 hour 50 minutes. With so many routes on offer we make it simple by comparing all similar routes in one search so you can quickly find what you are looking for.
Ferries from Crete to Cyclades Islands
About Crete:
Crete is the largest island in Greece situated in the southern Aegean Sea, boasting a wealth of gorgeous harbours, beaches and hilltop towns.

Not only is the natural landscape filled with stunning backdrops, the wonderfully unique culture, cuisine and history are inescapable too.

You'll come across awe-inspiring palaces, Renaissance buildings and picturesque Venetian ruins. Or you may spot some locals performing Cretan dances and playing music using stringed instruments called lyres and laoutos, offering a Greek island experience like no other.

Crete has a number of excellent ferry ports along its north coast, and, thanks to its location in the southern Aegean, offers numerous routes to the other Greek islands and Athens to the north. This makes Crete an excellent departure point for exploring both the country's mainland and many beautiful islands.
About Cyclades Islands:
The Cyclades are an archipelago in Greece, southeast of the mainland in the Aegean Sea, containing just thirty three inhabited islands from a total of two hundred and twenty.

Quintessentially Greek, this is arguably the best selection of islands in the Aegean. Standing out from the crowd are Mykonos and Santorini, earning international stardom with their white-washed villages, glistening waters, rugged coastlines and jumping nightlife. Uninhabited, the centrally located Delos is the supposed birthplace of Apollo, boasting intricate mosaics and breath-taking monuments of antiquity. They offer everything you would expect from this beautiful part of the world; so depending on where you step off the ferry, you can hike glorious trails, relax on fine beaches or indulge in fresh, classic Greek dishes.

The demand for ferries in Greece is incredibly high, resulting in top-quality services and frequent sailings to and from many destinations. The Cyclades are no different, with regular ferry routes from numerous islands, within the archipelago, and from ports on the mainland, including Piraeus in Athens.