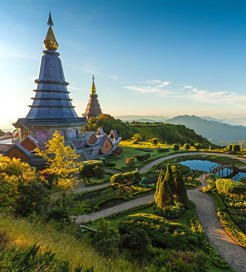 How to book ferries from Thailand to Koh Kood
There are 4 ferry routes operating between Thailand and Koh Kood offering you combined total of 35 sailings per week. Boonsiri High Speed Ferries operates 4 routes, Laem Sok to Koh Kood (Ao Salad Pier) runs 14 times per week, Bangkok to Koh Kood (Ao Salad Pier) about 7 times weekly, Koh Chang (Centre Point Pier) to Koh Kood (Ao Salad Pier) about 7 times weekly & Trat Airport to Koh Kood (Ao Salad Pier) about 7 times weekly.

As the frequency and duration of crossings on some routes varies we would advise that you do a live search for crossings from Thailand to Koh Kood to get the most up to date information.
Ferries from Thailand to Koh Kood
About Thailand:
Thailand is in the middle of the Indochinese Peninsula in Southeast Asia, with numerous islands situated off both the west and east coasts.

As one of the most visited countries in Asia, Thailand has a wealth of attractions ranging from jaw-dropping scenery to world-renowned cuisine. Some of the most beautiful islands on the planet lie in the Andaman Sea, too, whilst the rural region to the north has dense jungle and countless temples.

The energetic capital of Bangkok has a diverse character; Buddhist temples, food carts, skyscrapers and clubbing strips all compete for space. On the other hand, Chiang Mai, the Northern Province's hub, is a remote city in the rolling Himalayan foothills known for its walled inner city and stunning shrines.

The Thai islands are some of the country's biggest pull factors, attracting a large number of visitors each year, which means travelling by ferry is a good way to get around. There is an extensive ferry network between the islands off the west coast, as well as in the Gulf of Thailand, so there's a great deal of choice.
About Koh Kood:
Koh Kood is the easternmost Thai island before the Cambodian border, part of Trat Province in the Gulf of Thailand.

Calm, collected and jaw-droppingly picturesque, Koh Kood is often lauded as Thailand's finest island. Partygoers tend to skip this slice of paradise for its lack of clubbing options, leaving a relaxing getaway for families, couples and backpackers seeking total bliss. A typical day can involve snorkelling, kayaking, jungle-trekking or simply relaxing on the beach until the sun goes down. The majority of cafes, bars and shops can be found near the Khlong Chao area towards the west, and, for accommodation, you can choose from an extensive range of budget, beachfront hostels and luxurious resorts.

The Thai mainland and Koh Mak offer regular ferry crossings to Koh Kood, arriving at Ao Salad Pier on the west coast, close to the tourist amenities and popular beaches.