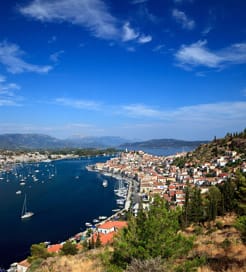 How to book ferries from Saronic Islands to Athens
There are numerous ferry crossings operating from Saronic Islands to Athens. Ferries currently connect 6 ports in Saronic Islands with 1 port in Athens.

There are a combined number of 27 ferry crossings each day across a selection of 6 Ferry Routes which are operated by 5 ferry companies including Hellenic Seaways, Anes Ferries, Saronic Ferries, Aegean Flying Dolphins & Alpha Lines with the shortest crossing taking around 35 minutes (Aegina to Piraeus).

This is a general summary of the services on offer between Saronic Islands and Athens, for live information select from our Fare Search.
Ferries from Saronic Islands to Athens
About Saronic Islands:
The Saronic Islands are a Greek archipelago just off the Peloponnese peninsula in the Aegean's Saronic Gulf.

Situated close to Athens, these islands are popular amongst Greeks for daytrips and weekend getaways. Comprising Salamina, Aegina, Poros, Hydra, Spetses, Dokos and Agistri, each island has a unique feel.

Aegina has spectacular temples and historic sites, Angistri is blanketed by lush forests and offers total tranquillity, particularly outside the high season, Salamina has a port dating back to the 4th Century, while the others boast exquisite beaches, idyllic towns and hidden coves speckled along the coastline.

The Saronic Islands are extremely well served by ferry, offering frequent, high-speed sailings every day to numerous locations on the Greek mainland. There are also plenty of ferry routes within the archipelago itself, all operated by one of the country's leading ferry companies.