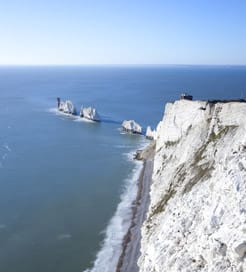 How to book ferries from Isle of Wight to England
There are 4 ferry routes operating between Isle of Wight and England offering you combined total of 76 sailings per day. Red Funnel operates 1 route, Cowes to Southampton which runs 18 times daily. Wightlink operates 3 routes, Fishbourne to Portsmouth runs 25 times per day, Yarmouth to Lymington about 16 times daily & Ryde to Portsmouth Harbour about 17 times daily.

As the frequency and duration of crossings on some routes varies we would advise that you do a live search for crossings from Isle of Wight to England to get the most up to date information.
Ferries from Isle of Wight to England
About Isle of Wight:
The almost diamond shaped Isle of Wight is located off the south coast of England and covers an area of about 150 square miles.

The Isle of Wight is a great holiday destination, whatever the season and features everything from historic sites to natural delights, perfect if you're looking for an adventure trip or just a quiet relaxing break away from normal life.

The Isle of Wight is extremely well connected to mainland Britain with numerous vehicle and passenger ferry crossings available. There are literally hundreds of sailings, year round, arriving and departing from many of the famous island spots such as Cowes on the central north coast and Ryde on the north east coast.

The ferries are operated by a range of companies, creating competition which helps the price stay relatively low. As the Isle of Wight isn't far from the mainland, all crossings take under an hour too.
About England:
England is the largest and most populous of the four 'home nations' that make up the United Kingdom.

Geographically England is defined as the region in the central and southern parts of the United Kingdom with Scotland to the North, Wales to the West and North Ireland to the West across the Irish Sea.

England can be divided into Northern England, the Midlands and Southern England with London in the South as the capital and centre of finance and culture.

Ferry travel is a very popular and well developed mode of reaching England, especially with visitors from Ireland and Northern Europe. It is an island after all.

With a choice of numerous ferry ports on offer connecting the likes of Ireland across the Irish Sea, France across the channel and Holland across the North Sea, it is no surprise that crossings to England and its numerous world class ports are managed by some of the largest, luxurious and most well-known ferry companies in operation.