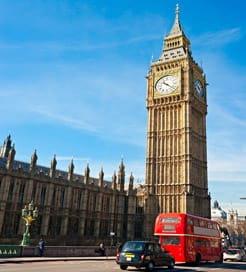 How to book ferries from England to Isle of Wight
There are 4 ferry routes operating between England and Isle of Wight offering you combined total of 71 sailings per day. Red Funnel operates 1 route, Southampton to Cowes which runs 18 times daily. Wightlink operates 3 routes, Portsmouth to Fishbourne runs 25 times per day, Lymington to Yarmouth about 14 times daily & Portsmouth Harbour to Ryde about 14 times daily.

As the frequency and duration of crossings on some routes varies we would advise that you do a live search for crossings from England to Isle of Wight to get the most up to date information.
Ferries from England to Isle of Wight
About England:
England comprises the central and southern parts of Great Britain which lies in the North Atlantic, separate from continental Europe.

The country is the largest of the four so-called 'home nations' that make up the United Kingdom and also includes over 100 smaller islands including the Isle of Wight and the Isles of Scilly.

England's capital city, London, is a vast and diverse metropolitan centre and a global capital of finance, culture and fashion.

Travel by ferry is popular and convenient mode of transport amongst the British public and as an island with a wealth of first class ferry ports, England is a great departure point by ferry for many destinations, both domestic and international. Many of the worlds' leading ferry companies are household names and operate numerous crossings serving the population of Great Britain.
About Isle of Wight:
The Isle of Wight, also an English county, is the largest island in the country, sitting just offshore from Southampton and Portsmouth, in the English Channel.

A British summer holiday icon; the Isle of Wight's beaches, pleasant micro-climate and quirky vibes can be reached in just ten minutes by ferry. It's affectionately known as 'Dinosaur Island', given it's one of the richest areas in Europe for archaeological discoveries, making it a great educational excursion for families, while the picturesque sand dunes and idyllic countryside make the perfect romantic retreat. Hosting renowned music festivals every year, including Bestival and the Isle of Wight Festival, it has remained a hugely popular destination in the summer months, attracting hundreds of thousands of revellers.

England to the Isle of Wight is one of the busiest ferry routes in Britain, with operators providing around thirty sailings every day across The Solent to a few towns on the island's north coast.