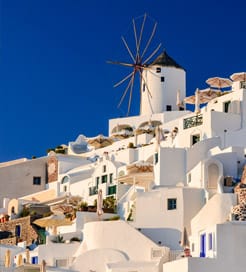 How to book ferries from Aegean Islands to Lesbos
There are numerous ferry crossings operating from Aegean Islands to Lesbos. Ferries currently connect 5 ports in Aegean Islands with 2 ports in Lesbos.

There are a combined number of 23 ferry crossings each week across a selection of 9 Ferry Routes which are operated by 1 ferry company including Hellenic Seaways with the shortest crossing taking around 2 hours 20 minutes (Chios to Mytilene).

This is a general summary of the services on offer between Aegean Islands and Lesbos, for live information select from our Fare Search.
Ferries from Aegean Islands to Lesbos
About Aegean Islands:
The Aegean Islands are located in the Aegean Sea, between the south and east side of mainland Greece and the west side of Turkey.

The vast area covered by the Aegean Islands includes the Cyclades, the Dodecanese Islands, the North Aegean Islands, the Saronic Islands, Sporades, Crete and the Ionian Islands and Euboea. The island group includes some of the most popular holiday destinations including Crete, Lemnos, Lesbos, Chios, Samos and Rhodes.

The Aegean Islands are often seen as the main characteristic of the Greek culture and tradition. In addition to the obvious appeal of the sun and the sand, visitors are attracted to the traditional villages of whitewashed houses, as well as to the impressive monuments of the great prehistoric civilisation that flourished here.

Ferries are the primary method of travel around the islands and provide a convenient mode of transport to get you in to and around the region.
About Lesbos:
As the third largest island in Greece, Lesbos covers an area of over sixteen hundred square kilometres in the north-eastern Aegean Sea.

You won't come across many tourist resorts on Lesbos, but what you will find are roughly eleven million olive trees, copious sandy beaches, lively port towns and an authentic Greek lifestyle. Add to that list a petrified forest, fossilized around twenty million years ago, and you have one of the country's most extraordinary islands.

Commonly sighted are almost three hundred bird species, which are best admired along one of the many hiking trails and cycling routes, or when relaxing in therapeutic hot springs, flowing with some of the warmest mineral waters on the continent.

Greece has one of the largest ferry networks in Europe, owing to the sheer quantity of islands and archipelagos. Lesbos is served by many routes from around the Aegean, including a few cities on the mainland and the surrounding islands.